Chaturbate Affiliate Program Review: Cam Site Affiliate Commissions
Can You Make Money Promoting The Chaturbate Affiliate Program?
Sign up viewers (20% rev share) ✔️
Sign up viewers ($1 per registered sign up) ✔️
Sign up broadcasters ($50 per sign up) ✔️
Sign up other affiliates (5% of revenue) ✔️
5 / 5 ⭐⭐⭐⭐⭐
Chaturbate Affiliate Program TLDR Summary

Affiliate Commissions
⭐⭐⭐⭐⭐
Affiliate Cookie
⭐⭐⭐⭐⭐
Brand Recognition
⭐⭐⭐⭐⭐
Payout Methods
⭐⭐⭐⭐⭐
Any affiliate marketer who knows their stuff should always have an eye on the adult content industry, and this is why.
Not only are adult affiliates some of the highest earners in the affiliate marketing sphere, but the adult industry itself is also classified as one of the world's billion-dollar industries with estimated earnings per annum found to be as high as 97 billion or more by some other estimates.
So yes, there is more than enough money to go around in this niche. What's more, earning as an adult affiliate is relatively straightforward, as long as you know what you're in for and are aptly prepared.
For instance, you must know exactly which programs you want to promote. One of the best offers in this niche is that of the Chaturbate affiliate program, and that's what we're going to be taking an extensive look into today.
If you're going to be taking a dive into the adult affiliate world, then promoting Chaturbate is definitely as good a place to start as any. The series of information below should give you everything you need to get started and achieve maximum success in the field.
Now let's get started
What is the Chaturbate Affiliate Program?
Chaturbate is an online adult cam platform where users register to broadcast themselves live, watch others doing the same thing, or both. The broadcasters are usually models who look to earn money by providing live content for their fans and followers, while the audience are just regular folks looking to be entertained by some adult content.
While there are lots of adult camming websites out there that do pretty much the same things that Chaturbate does, the appeal of Chaturbate comes from their clean interface, customizations options, experience in the industry, their solid traffic base, and of course their commendable affiliate program.
Cam models and other broadcasters earn money in the form of tokens tipped or gifted to them by fans and audiences. Chaturbate's token system works by letting users buy these tokens with real dollars. Models can then charge a certain number of tokens for specific actions, after which they can withdraw their tokens in the form of real dollars again.
All of these are important to you as an affiliate because your job would be to drive users to register on the platform. These users may be regular viewers or broadcasters and cam models.
Chaturbate's Affiliate Commissions Explained

The Chaturbate Affiliate setup is divided into four distinct reward systems. The first is the 20% revshare member sign up, followed by the $1 per member sign up, broadcaster sign up, and webmaster/affiliate signup.
We take a deeper look at all four systems in detail below:
Members Sign Up (20% revshare)
The first system of earning rewards as a Chaturbate affiliate partner is the $20 revenue share model. In this scenario, you earn 20% of whatever the viewer you directed to the platform spends. Doesn't matter where or on what exactly they spend it, as long as it's on Chaturbate, you get a reward.
Again, recall that we mentioned the token system of Chaturbate broadcasting above. So let's say you referred a user to Chaturbate who tunes into a broadcast from their favorite model. On this broadcast, they spend $50 worth of tokens.
Since you're on a 20% rev share model, you are entitled to $10, which is 20% of $50.
It should be noted that not all broadcasts require tokens for entry. So if a user tunes in to a free broadcast and does not buy any token, there's obviously not going to be any payout on that occasion.
But of course the beauty of rev share is that you're entitled to the revenue share forever, so even if they don't buy tokens now, you're still entitled to commissions if they end up getting some anytime in the future.
Members Sign Up ($1 per registered sign up)
The next model is the simple $1 per registered sign-up system. This model is quite self-explanatory. Simply put, for every user you direct to the platform that ends up successfully registering an account, you are entitled to $1.
The advantage of this over the rev share model is simply that using this alternative, your referrals do not necessarily have to buy tokens for you to be entitled to a payout, whereas in the system above, you only get paid when your referrals spend tokens on the platform.
As you may have suspected, there is also a major drawback to this system, which is that if your referral happens to be a big spender on the platform, you don't end up getting any share of their spending. Once you get your initial $1 for registration, that is it.
Broadcasters
Another system of earning rewards as a Chaturbate affiliate partner is to refer not just users and audience, but those who are willing to become broadcasters and cam models on the platform.
Lots of adult webmasters who happen to be Chaturbate affiliates make a lot more using this method.
This is because unlike directing viewers to the platforms, directing broadcasters is a guarantee that you earn $50 per sign up – once the model you refer earns at least $20 on the website.
Obviously, this is a more attractive offer than just earning $1 per registration. You may be wondering how easy it is for a model to earn $20 on Chaturbate. Well the answer is, very easy.
Once you're able to get a model who is even half serious about being a cam girl to the platform, then you should be getting your reward in no time.
Webmasters (Other Affiliates)
Lastly, the final commission type for affiliates on Chaturbate is the webmaster referral system where you get rewarded for recruiting others to become Chaturbate affiliate partners.
For this, you are entitled to 5% of all earnings that the person you directed to the platform is able to earn throughout their careers as affiliate partners.
This is obviously a great system because if you're lucky and are able to recruit a few serious affiliate marketers for the platform, you can literally just sleep all day and watch the money roll in.
But of course you wouldn't want to do that because why sleep when you can be making even more money referring even more people to the platform.
Choosing Between the Reward Models
There is obviously no secret map as to which is best among the two. Some find more success with the $1 model while the revshare yields more return for others.
One thing that could make your decision easier, though, is to be honest with yourself as to the quality and quantity of traffic you direct to the platform. If you happen to take it as a leisure without emphasis on quality traffic, you may probably be better off choosing the $1 fixed registration commission. But if you're certain of your traffic quality, then you should definitely trust that it'll pay off in the end and your referrals will start to spend a lot, equating into more earnings for you.
Lastly, dont rule out the option of referring broadcaster, many would agree that there is good money to be found in signing up broadcasters to Chaturbate. The singular $50 you get from one referral is just too attractive to be ignored as a potential revenue source.
How Much Money Can You Earn as a Chaturbate Affiliate?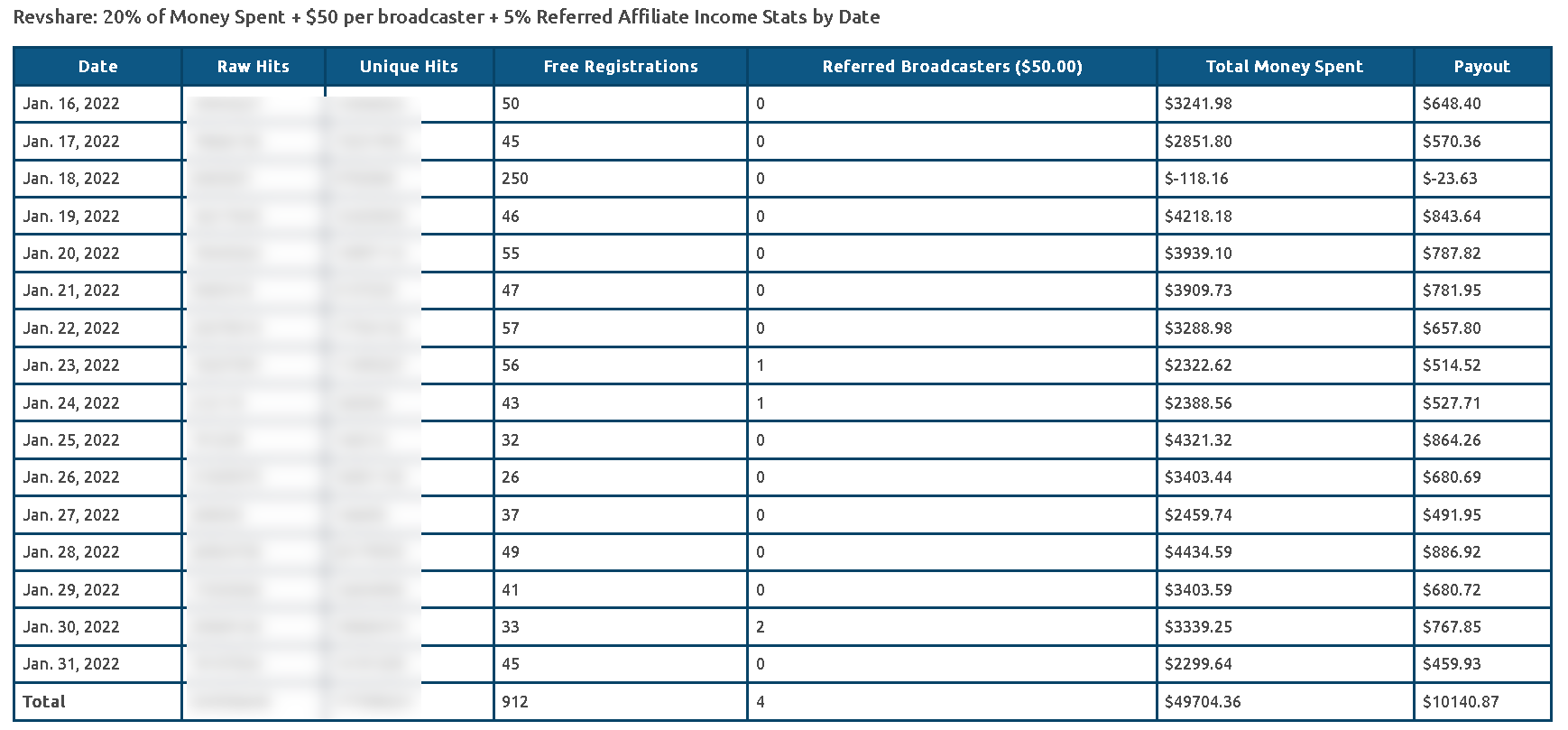 Take a look at my affiliate earnings for the 2nd half of January 2022. These signups come from my own network of tube sites and porn blogs that I am always adding new sites to.
Thats right, I earn over $20,000 per month from sending visitors to Chaturbate from my network of websites.
Also, from the above section about commissions and rewards type on Chaturbate, it is quite obvious that there is a lot of money to be made on the platform – and even putting it like this may be something of an understatement.
We constantly hear of people making it and achieving financial freedom from Chaturbate, but we usually assume these people are broadcasters and cam models only. This couldn't be further from the truth.
Even regular affiliate marketers like you and I have been known to rake in incredible figures just through their affiliate activities. For instance, below are 5 of my friends who are each earning at least $5000 every month. And this isn't just hearsay but verified fact based on personal experience.
What's more, there are affiliates who make even more than that, which is quite logical given the fact that there are thousands of cam models on Chaturbate who earn nothing less than $200,000 a year based on camming alone.
The screenshot above is what the people who follow my advice make. Chaturbate gives me an extra 5% of what my friends earn out of their own pocket. Chaturbate pays me this as a gesture of gratitude for bringing in more affiliates to their network.
As you can see, I have 14 friends that I have recruited into Chaturbate promotion. About half of them took it seriously and followed through on my advice.
This screenshot is from the same period in January 2022.
The payout column on the far right is what Chaturbate paid me out of Chaturbate's own pocket and it represents 5% of what my friends earned during that 15 days at the end of January.
Lets take the 3rd row for example. Chaturbate paid me $191, which was 5% of what my friend earned. So if we times $191 x 20, we get $3820. Thats right, my buddy from high school made almost $4000 in 2 weeks by copying my website idea and putting in a couple of hours per day into his website instead of playing Call of Duty.
Bottom Line
Obviously, when it comes to putting an exact figure on affiliate earnings, it is almost impossible to come up with an absolute figure seeing as there are just too many variables involved. What's worth having in mind, though, is that those who earn the most as Chaturbate affiliate marketers are those who are truly serious about it.
Sure, you can make it a side hustle and spend just a little time on the project and still earn a significant amount of money every month. But if you take it seriously and are committed to following through, you could see yourself paying for a new home and a new car with cash money.
How to Join the Chaturbate Affiliate Program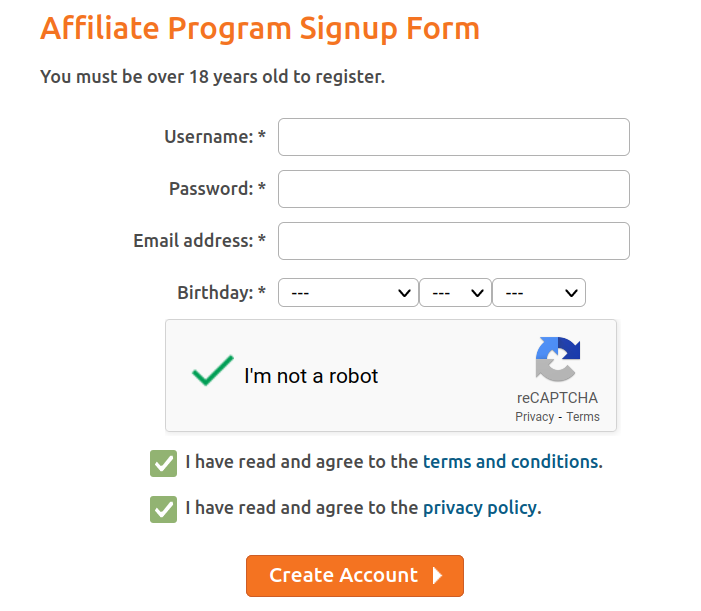 To join the Chaturbate affiliate program, you must be human, over 18 years old, and willing to agree to their privacy policy and terms and conditions. Once you pass all these conditions, you can begin by following the steps below.
Step 1: Visit the Chaturbate Website
Obviously the first step to register as an affiliate is to visit the platform and complete the registration form. In this case you might also want to get familiar with the page by reading the content carefully before you proceed with registration. The information you will have to provide include username, password, email address, and birthday.
Step 2: Take a Look Around
Once you are done with the initial registration, you should definitely explore the whole platform to get a feel of what you're going to be promoting. A perfect understanding of how the system works gives you a better base to push your affiliate offers and enjoy a higher conversion rate.
Step 3: Affiliate Registration
After the initial registration, you may begin the affiliate registration by accessing the affiliate page here. You don't have to register as a broadcaster to become an affiliate. Regular viewers may also choose to become affiliates.
Once this is done you may consider reviewing details about their commissions structure before grabbing your links.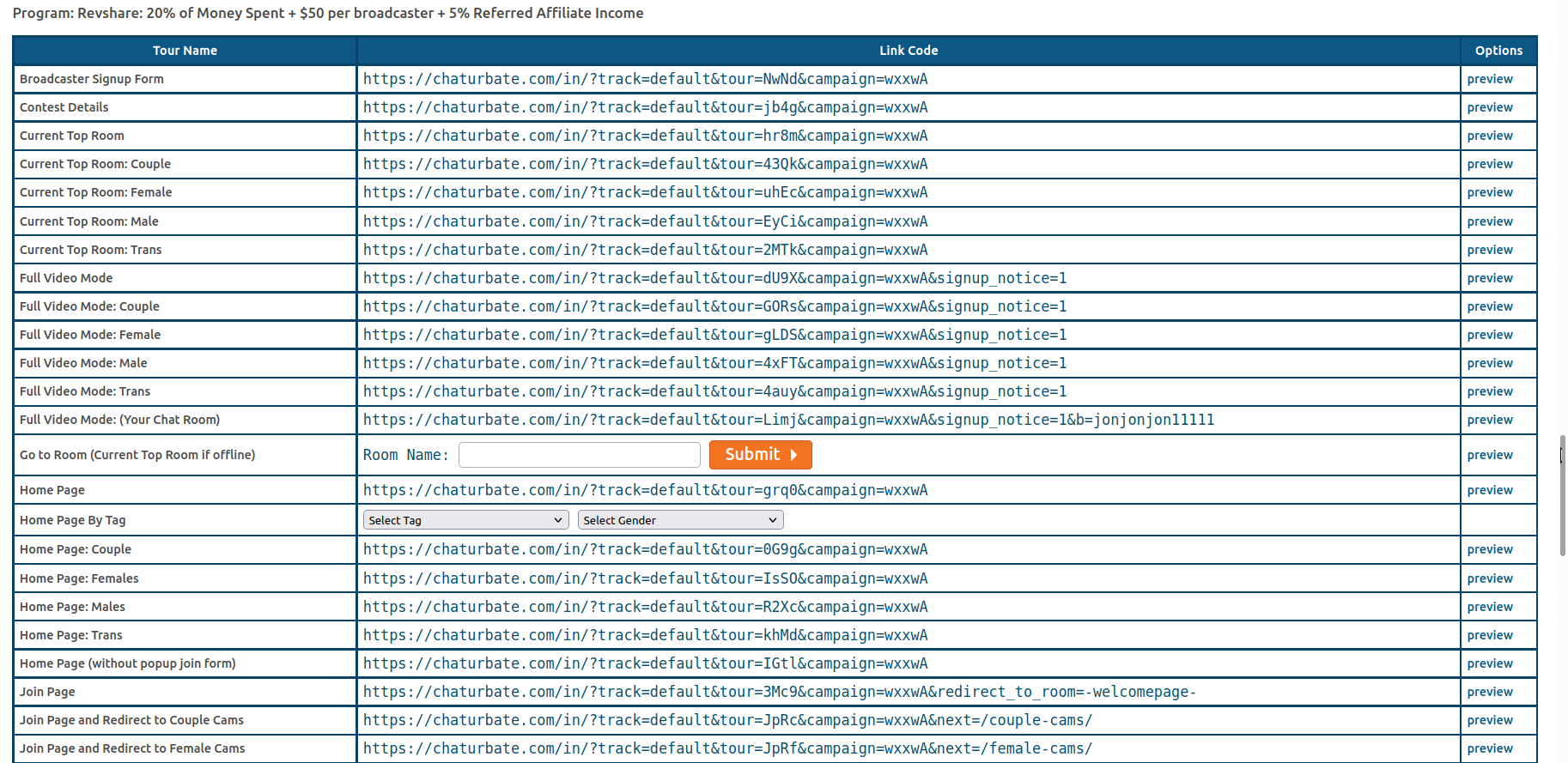 As an affiliate partner, you will find a host of links on your dashboard. It is your prerogative to pick anyone that you prefer. For instance, there is a broadcaster signup link, top rooms link for both male and female, homepage link, and random page links.
Pick whichever suits your platform best and start promoting.
Finally, once you grab your link and start promoting, you can also start tracking your conversions, and subsequently, your earnings. You may also tweak a few things such as offer types and link categories to see if they work out better.
How to Promote the Chaturbate Affiliate Program
There are so many ways you can promote your affiliate links to get rewards on Chaturbate. Obviously if you have your own webcam niche related website, you can prepare some new SEO optimized content and redirect traffic using your affiliate link.
Social media is another strategy many affiliate partners use, and to great effect too. You may think some systems are more inferior than the other, until you see that even those using that so-called inferior system earn more than those with the supposedly superior one.
Email marketing is another strategy you may employ to promote your affiliate offers. What's most important is that whatever strategy you choose to use, do it right and be patient with it.
Chaturbate Affiliate Program Alternatives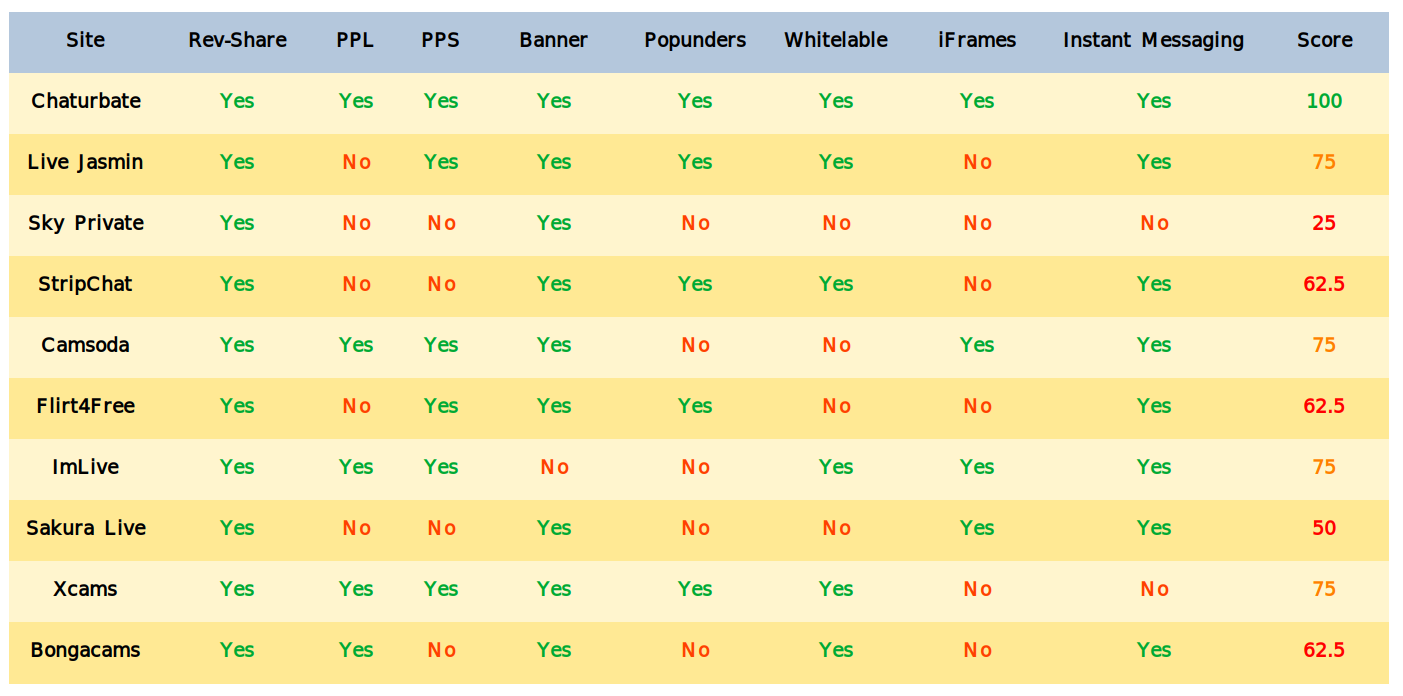 Chaturbate is the best affiliate program in the adult niche, particularly in the webcam sub-niche. Other cam sites fail to meet the high bar set by Chaturbate.
How to Make Money in the Adult Niche
As we've seen in the review above, making money in the adult niche is possible and something you should actively strive towards. Many are cashing out every day in this niche, and they don't even have to show their faces on camera or operate one by themselves.
All you have to do is use your platform as a tool to promote these affiliate offers and you're well on your way to enjoying a piece of the cake.
To really succeed in this niche, though, you must have a few things in mind. The first of this is that everyone you see earning big now has to start from somewhere, so there's no reason you shouldn't be willing to do the same.
They had to put in the work to get where they are, and if you do the same, you too will become a success story in no time.
Secondly, even though affiliate marketing can earn you money in your sleep, you probably won't earn a lot if all you do is sleep. Yes, you can earn a lot of money being an adult affiliate marketer, but you must be willing to work hard to get there.
Chaturbate Affiliate Program Review Summary & Final Thoughts
Above we have taken an in-depth look at the ecosystem of Chaturbate's lucrative affiliate program, focusing in detail on what the platform is all about, their different commission models, promotional strategy, and short tips on how to achieve success being an affiliate partner to the platform.
To summarize, Chaturbate is a webcam platform where users either broadcast content or pay to see them. You don't have to do either to earn money on the platform. All you have to do is promote the platform through an affiliate link and you'll be rewarded for every user you direct to it.
The first reward model gives you 20% of any amount your referrals spend on the platform; second model gives you a flat 1% for each registered user that arrived on the site through your link; third system gives you $50 for every cam model you bring over that earns at least $20; and the last rewards you for referring more affiliate partners with a 5% share of their future earnings.
FAQ
How does the Chaturbate affiliate program pay affiliates?
The Chaturbate affiliate program pays affiliates using one of four methods: A fixed $1 for every registration, a $20 revenue share for every referred user that spends money and buy tokens, a $50 fixed sum for every model that earns $20, and a 5% reward for referring other affiliate partners.
Will promoting adult content hurt your website's search engine optimization?
Promotion of adult content cannot hurt your website if you have a website that already deals with adult content. But for websites that don't already belong to this niche, there may be an unwelcome effect on your rankings.
For Google and other search engines, relevance is key. So if you have a political website promoting porn content, they might not like it so much.
Is it advisable to be an adult website affiliate partner?
Absolutely. Many people have their reservations about adult content, which is alright. If you happen to not fall into this category and are looking to earn money as an affiliate marketer, then the adult niche is definitely worthy of serious consideration.
---